Phoenix Cafe
Location information
Location

395 Coldharbour Lane, Brixton

Postcode

SW9

Owner(s)

family business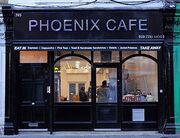 The
Phoenix Cafe
(styled as the Anglicised "Cafe" on its own signs, although written in the book as the French "Café") was on Coldharbour Lane, opposite Electric Lane and near Brixton Road and Lambeth Town Hall. Here
Cormoran Strike
was often as a boy taken for meals with his parents, and it is also where he entertained a client for lunch.
It was a typical working-class "caff" with homely atmosphere and traditional British food.
As of January 2014, the Phoenix has moved from its original site at 441 Coldharbour Lane to 395. It is said by the Brixton Buzz blog that this is a temporary measure while the original building is being refurbished. Brixton Buzz also says that the new location is a lot less homely than the original. The original cafe (with neon signs still alight) can still be seen.
External links
Edit